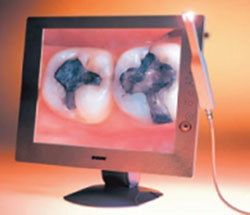 Straightforward, light and multifunctional,the new Real Hi-T camera gives you true-to-life images.
Its durable composite hand-piece is easy to grasp and maneuver, plus it has all the most up to-date technological innovations, making the Real Hi-T a top-of the-line camera.
A true-to-life image
Five LEDs evenly distributed around the lens flood the buccal cavity with light, and the auto-focus discreetly ensures optimal distance setting. The image, which is digitized at source via a High Tech CDD sensor, reproduces every detail in natural colour.
The proof is on the screen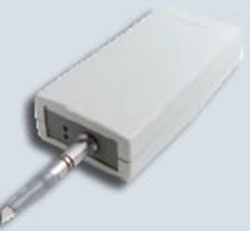 With images to show your patients, you can explain and support your diagnosis rom the screen. Digital processing makes understanding easier, which encourage immediate acceptance of your recommendations. After the patient's visit, before and after pictures attest to the quality of your work.
Real Hi-T offers real support, whether you are giving a lecture, communicating with a colleague or dealing with a laboratory. And it is user friendly.
A camera with varied talents
Real Hi-T instantly shows the captured images and with a single click allows you to freeze and archive the images you consider essential.
Your camera is also a multi use photo camera : take portraits to personalize your patient files or to foster more effective communication with your technicians.
One camera, two configurations
Video or digital, the Real Hi-T camera connects via USB port to any PC in your practice, allowing for ingenious resource sharing.
Its can also be used in independent mode.
A library of patients images
Selected, framed and retouched, each image is archived in the patient file, to be easily consulted or future treatment. You can also send images via Internet or print them for patients or technicians.