Paperless And Mobile Solutions
Patient Consent forms with Signature Pad and Patient Info Terminal for a Paperless Office.
The latest version of Practice-Web Dental management and clinical software features five integral methods for a paperless office:
Patient Consent Forms with signature pad support
Patient Information Kiosk
Web-based Patient Registration
Integrated merchant card processing
Multi-page scanning support
Consent Forms with Signature Pad
Dental practice can store patient's consent signature in four areas of Practice-Web software; namely, clinical chart section (consent form and under progress notes), Treatment plan report, comm log area and images section.
Sign Procedure Notes: Sign or initial procedure notes using a Topaz signature pad or by using a stylus on a touch screen. Following models of signature pads are supported: T-S461-HSB and TS460-HSB. Other similar models may work as long as they are HSB and 1x5. While in Practice-Web, click on Chart button on the left.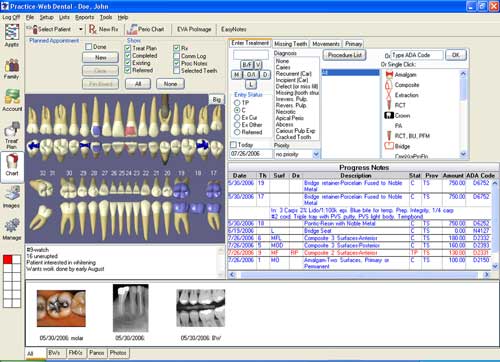 Double-click on the extraction procedure entered earlier as displayed here.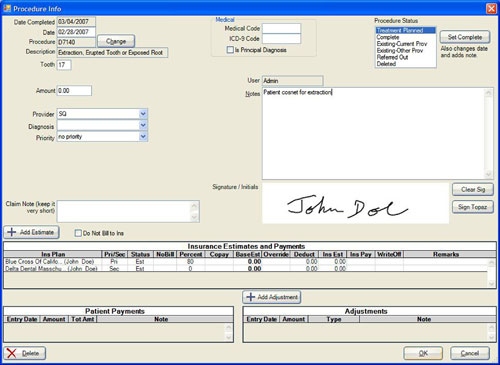 The patient can sign the box below the note using a Topaz signature pad or by using a stylus on Tablet PC. Click OK to save the signature with the procedure.
Consent Forms: Click on the Images button on the left. Click on the "forms" dropdown list and select the desired form.

In addition to the starter consent forms; user can import any form template to the images folder. When the form template is selected, enter the description and present to the patient to sign using signature pad or stylus on a Tablet PC or touch-screen.

Click OK to save the signature with the consent form as follows.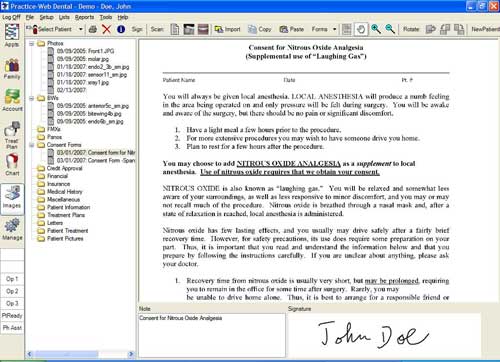 An example of consent form in Spanish: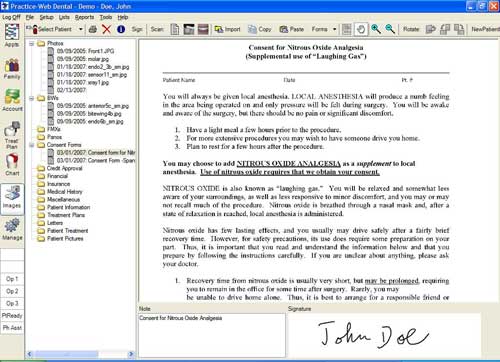 Following are the examples of a consent form on Wireless Table PC and Topaz signature pad: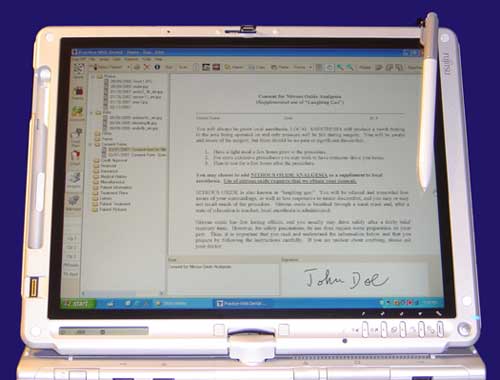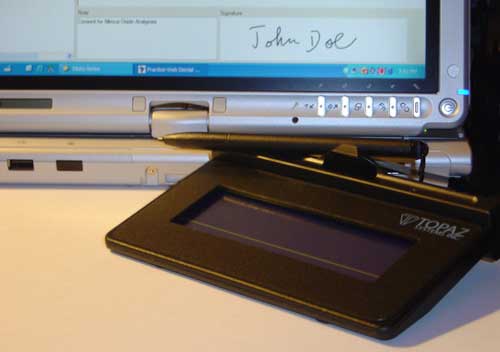 Patient Info Kiosk
Practice-Web presents a secure way for new patient or existing patient to enter own information in the reception area as follows. The front desk person selects Kiosk Manager from the menu, enters the patient's name in the Kiosk manager and pushes the screen for the patient to enter data.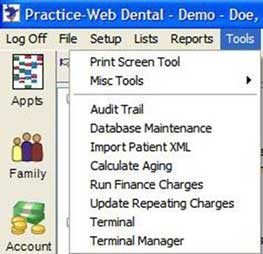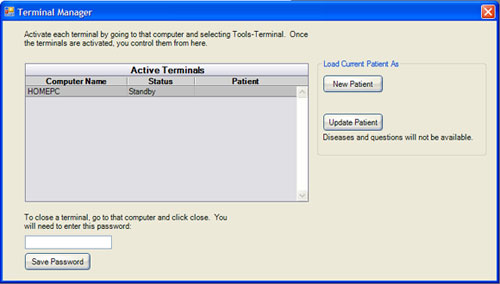 New patient starts entering the information (including health history).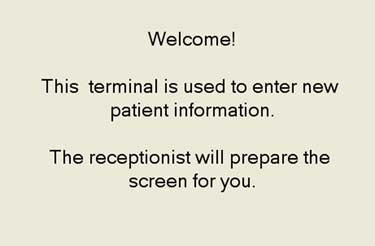 The screen(s) validates the data and cannot be closed until finished. The front desk retrieves the information entered by the patient before he or she is treated.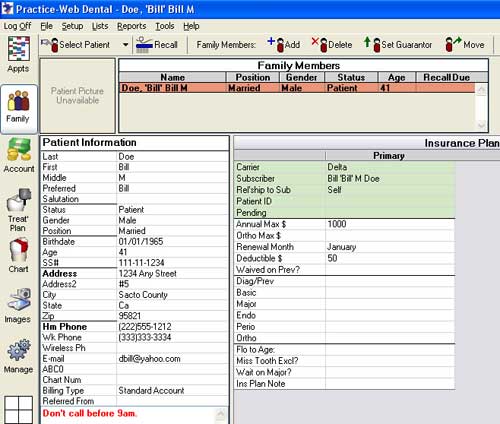 New patient registration on the web:
A new patient can register at practice's web site or a HIPAA-compliant linked site. The practice can retrieve the patient information by clicking on the NewPatient button in Images module as follows. The new patient, subscriber and insurance plan records are created.

Additional Information:
Desktop Open source system designed for Windows 7, 8, 10 and Windows XP using MySQL database
Other functions include appointment scheduling; quick patient entry with insurance plans; recall list linked to appointment scheduler; prescription writer; image management; patient eligibility, bridges for all major digital radiography systems; query & report functions
Affordable, connected and easy to use